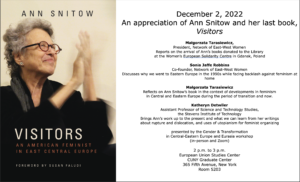 Gender and Transformation in Central-Eastern Europe and Eurasia Workshop  will take place in European Union Studies Center, CUNY Graduate Center, New York, on the 2nd of December 2022, 2p.m. to 3 p.m. in person and Zoom.
Malgorzata Tarasiewicz,
President, Network of East-West Women
Reports on the arrival of Ann's books donated to the Library
at the Women's European Solidarity Centre in Gdansk, Poland
Sonia Jaffe Robbins
Co-founder, Network of East-West Women
Discusses why we went to Eastern Europe in the 1990s while facing backlash against feminism at home
Malgorzata Tarasiewicz
Reflects on Ann Snitow's book in the context of developments in feminism
in Central and Eastern Europe during the period of transition and now.
Katheryn Detwiler
Assistant Professor of Science and Technology Studies,
the Stevens Institute of Technology
Brings Ann's work up to the present and what we can learn from her writings
about rupture and dislocation, and uses of utopianism for feminist organizing