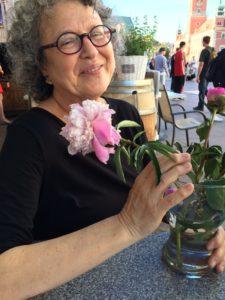 March 9, 2023, 17.30 (1:30 p.m. EST, 10:30 a.m. PST). Celebrating the Polish edition of Ann Snitow's
Visitors: An American Feminist in East Central Europe and 
the opening of Ann Snitow's collection of books  
at the European Solidarity Center's Library
ECS library (1st floor) 
pI. Solidarności 1, 80-863 Gdańsk
Free entrance
Ann Snitow (1943–2019), an American professor of literature and gender studies at the New School for Social Research in New York, and her book, "Visitors: An American Feminist in East Central Europe," recently published in Polish 
(in Polish: "Guides. How we built an equal world on the ruins of communism") (Znak, 2022). 
The panelists: 
Małgorzata Tarasiewicz | Former activist of the "Freedom and Peace" Movement, coordinator of the Women's Section of NSZZ "Solidarity" (1990), president of the Polish branch of Amnesty International (1991-1995), today a social and feminist activist, director of the Polish branch of the NEWW Association – Network of East-West Women
Sławomira Walczewska | Feminist and social activist, philosopher, publicist, essayist, translator, editor, feminist culture critique, studied in Bonn, Warsaw and Vienna. Her book "Ladies, Knights and Feminists" (Wydawnictwo eFKa, 1999) was the first attempt to collect the history of the Polish women's interpretation of history.
Prof. Ewa Graczyk | Literary scholar, essayist, feminist, academic teacher at the Institute of Polish Philology of the University of Gdańsk. Member of the Board of Network of East-West Women< NEWW-Poland. 
Moderator
PhD Grzegorz Piotrowski, ECS Research Department
The meeting will be an opportunity to promote the collection of almost 2,000  academic books collected and donated by Ann Snitow, and now available in the ECS library.
After Ann Snitow's death, Małgorzata Tarasiewicz worked to bring her collection of academic books to Gdańsk. 
In August 2022, two pallets of books containing 70 cartons, which included 1,917 titles, arrived at ECS. The Ann Snitow collection has been added to the ECS book collection and is available to readers, says Dr. Grzegorz Piotrowski from the ECS Research Department. It is most likely the largest collection of books on women's activism in Poland.
In 1991, Ann Snitow cofounded the Network of East-West Women, an organization supporting feminist movements and organizations in Central and Eastern Europe. Her voice on the issue of Polish activists was of great importance. She said, "The heroism of feminists in Poland in the early 1980s and 1990s should absolutely be recognized comparatively with the heroism of Jacek Kuroń and Adam Michnik in the 1970s. These women opposed the entire patriarchal structure, which condemned them to monstrous loneliness. They were seen as a ridiculous minority and treated with contempt. The decision to become a feminist activist took great courage and those who made it were true dissidents."
"We will talk about Ann Snitow herself, her research and activism, as well as about feminist activism in Poland," says Grzegorz Piotrowski.